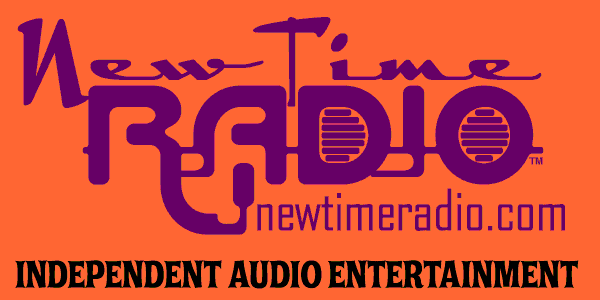 New Time Radio is all about great original audio shows avaiable online in MP3 format. You can play them on your computer, or for the best experience, put 'em on your MP3 player and listen on the run! Know a site that should be on this page? We'd love to hear from you, we're always looking for more New Time Radio! Email obliviana@aol.com!

(((Updated 9/19/04))))


RECOMMENDED SHOWS--ALL WITH MP3s TO DOWNLOAD RIGHT NOW!

The Overnightscape - "A New Kind of Radio Show" - Join host Frank Edward Nora on a pleasantly insane ramble through the mysteries of life, culture, current events, beverages, malls, and beyond! (This is my show, so I figured I'd put it first!)

Crap and Stuff - "Part of the New Time Radio phenomenon, Crap and Stuff is a one-person audio show that's not on the radio, but available as a file stream or download. "

Static Internet Radio - Great weekly show with Bob and Miles, two midwesterners that talk about their lives and all sorts of stuff. New show every Wednesday, plus an archive of about a year's worth of shows, in Quicktime format. Always a great listen! (Click the "OLD" link to find MP3s)

SITFUSO - "Audio programme that defies logic, common sense, and good taste." It's like a modern, New Time Radio version of "Monty Python's Flying Circus". 5 episodes so far, check 'em out!

A Career in the Weeklies - Episodic comedy adventure soap opera that tells the story of Eric Shea, and his strange career with a weekly Toronto paper called THE ANTI-NEWS WEEKLY. The paper was founded by an enigmatic madman named Johnny Whispers. The stories revolve around Eric and Johnny's efforts to make the newspaper into the most hated institution in the city. So far there are 9 episodes. (The MP3s are there, but there don't appear to be any direct download links. You can find the locations of the MP3s in the HTML source or the M3U files.)

Hate The Radio - Web-broadcast audio program featuring Al & Law, plus web audio directory and message board.

The Basement Internet Show - "Eclectic internet talk show featuring interviews with interesting and unusual guests."

RetroGaming Radio - This is quintessential New Time Radio! A show all about classic video games, hosted by Shane R. Monroe. Many episodes are available as free MP3 downloads. The rest can be purchased on CD-ROM.

Prophecy Keepers Radio - "Weekly Talk Radio Show about Native Prophecy - and about the visit 200 years ago of our White Bearded God whom we call 'The God of Wind and Waters' from a strictly Native American point-of-view."

The Wonder Fears - 40-minute audio drama. "The whole story is based from a perspective of a child of 9-13 years old - much like the TV show, 'The Wonder Years' - at a time when monsters and scary situations are far too real."

Apotheosis - A hyperactive "intellectual comedy" kind of audio drama. Actually quite good. Free lo-fi streaming, with audio CDs available for purchase.

Ghostly Talk - Show about ghosts and stuff.

Digital Llama Radio - Two different shows. "Fanfilm Radio" is all about the world of Star Wars fan films. "Player's Guide" is all about role-playing games and the like. Both feature a bunch of inspired geeks being goofy. As far as I can tell, all shows are freely downloadable as MP3. UPDATE: Their old site is down, and it looks like the new site (hosted by TheForce.net) only has Fanfilm Radio, and not Player's Guide...

Soundings - "The Audio Theatre of Jeff Green."

Crunchy Frog Comedy - Audio comedy.


MORE MP3 SITES - MIXED CONTENT
These sites all have at least some MP3s to download. Some you may have to find via M3Us (more info on this to come)

Brocket99.net - All about a controversial underground tape from 1986 which parodies an Indian reservation radio station in Alberta, Canada. Definitely worth checking out. MP3 downloads of the entire tape are available.

Opsound - Open Sound Resource - "Opsound is a record label using an open source, copyleft model, an experiment in practical gift economics, a laboratory for new ways of releasing music." A very interesting idea. Mostly music, but some stuff that kind of veers into this list's territory...

The Hour of Slack - "The Church of the SubGenius Radio Ministry". Is it a fake cult pretending to be a real cult, or the other way around?

Radio Tiki - "Eclectic news and humor".

The Dave and Ward Show - Internet comedy radio show. "Funny guys".

The Soul Patrol - Internet audio comedy series.

Virtually American - A variety of audio dramas.

ZBS - Contemporary audio drama.

Not From Space - Audio movie, available on CD. Free samples available.

NAKEDGREMLIN! - Interview with Javier - A short audio documentary worth a listen. Looks to be the only audio thing on the site.

Attica Rebellion audio documentary - "29-minute documentary about the origins of the modern anti-prison movement."

Freedom Archives - "The Freedom Archives contain over 5000 hours of audiotapes. These recordings date from the late-60s to the mid-90s and chronicle the progressive history of the Bay Area, the United States, and international solidarity movements. The collection includes weekly news/ poetry/ music programs broadcast on several educational radio stations; in-depth interviews and reports on social and cultural issues; diverse activist voices; original and recorded music, poetry, original sound collages; and an extensive La Raza collection."

The Radio Trip - Broadcast radio show. "The Radio Trip with Ben Churchill featuring Comedy Bits, Web Parodies, Sound Bites, & Literature." Interesting radio show with lots of MP3 clips and Real streaming shows.

Mike Hodel's Hour 25 - Broadcast radio show. "Science Fiction Radio for Southern California since 1972."


OTHER SITES
Lots of good stuff, but unfortunately these sites don't offer their content as MP3 downloads. Most of this stuff you will need to listen to on your computer as opposed to using a portable/car player. [audio technology, as best I can determine, in brackets]

The Michael Anthony Show - "Against the grain since 1987" - A mostly political and Free Speech oriented talk show mixed with independent and unsigned artists. Once described this way; "Michael Anthony makes Howard Stern look like a Sunday School teacher." [Internet Stream]

BUFO Paranormal & UFO Radio - Great site with daily audio updates, interviews, archives, and more! Hosted by Mary Sutherland, director of the Burlington UFO and Paranormal Research Center. [Windows Media (.wma)]

Team Sportscast Network - Live coverage of Quake-type games. Strangely entertaining to listen to! [Internet Stream]

GBC Sports - Another site with live coverage of Quake-type games. [Internet Stream]

Wyoming Internet Student Radio - Some interesting audio productions. [Real]

Pioneer Radio - "Home to Paranormal and Light Entertainment on the Internet" [Internet Stream]

Jerry Pippin's Adventures in Internet Broadcasting - "Jerry Pippin's Adventures in Internet Broadcasting is your unique, on demand source of 24/7 INTERNET RADIO VARIETY ENTERTAINMENT, featuring Guest Personalities, Current Events and Politics, Memories of the 20th Century, Old Time Radio Shows, the Esoteric, the Paranormal, and the Internet's number one source for current UFO information, the UFO-Files Show." [Internet Stream]

The John and Keith Show - "John and Keith are your typical 25 year old Computer Programmers.... worthless Mountain Dew addicts with severe emotional problems. They spend their 25 hour work weeks being ridiculed at a corporation that's bigger than Al Roker's head. Well, in order for them to fight back (.... kinda), they've decided to start an Internet Talk Radio show! Hailing from the San Francisco of the Mid-west (a.k.a Columbus, OH), you can listen in on John and Keith touch on the important subjects in life.... like knife fights and bath houses!" [Web-Based and Internet Streams]

No Holds Barred Radio - New Jersey-based talk/comedy show. [Internet Stream]

The Goddamn Show - A show on the No Holds Barred Radio Network. [Internet Stream]

The Daily Feed - Audio political cartoons... something like that... [Real]

Anime Radio - Show about anime. [Real]

Artemis Radio - Another show about anime. [Real]

radio-quality.co.uk - "The Internet Radio Magazine" [Real]

Ebon Storms - Fantasy audio drama. CD's available for purchase, plus samples in a variety of formats. Complete drama aired on Live365.com (for paying listeners only, since the recent policy change). Only 3 sample tracks on MP3.com, because they also had a recent policy change. [Real]

Audible.com - "Pay to download" site that uses a proprietary format. Wide range of non-music audio content. [Propriety Format]

The LodesTone Catalog - Audio theater site. [---]

Ultimate SciFi new time radio - Guide to sci-fi audio drama. [Internet Stream]

Crazy Dog Audio Theatre - Irish audio drama company. Check out their "Masterpiece Gallery", a great guide to the "greatest productions conceived specifically for audio". [Web-Based Stream]

Radio Zero - Talk show created by the band "Poster Children". (Thanks to Mike Markowski for the link!) [Real]

Audio Theater - Lots of stuff about about audio theater. [---]

Radio Tales - Audio theater. [???]

Shoestring Radio Theatre Corporation - Audio theater. [Real]

Oneword - British digital radio station... [Internet Stream]

Matt Radio - "Talk. Music. Mattness." Internet radio show with talk and music and... Mattness. Now has 24/7 streaming broadcast. Music... but enough of a talk element to qualify for this list... [Internet Stream]

WGDS - Wiccan Pagan Internet Radio. [Real]

Radio Repertory Company of America - "Producers of Original Full-Cast Audio Dramatizations." Free excerpts available. [Real]

The George Ministeri Show - George Ministeri is an internationally acclaimed psychic, clairvoyant, and psychometrist. He is adept at clairaudio, telepathy, dream analysis, and some forms of mediumship. He has been a leading influence in the metaphysical field for more than 25 years. Tune in Sundays from 3:30 PM EST to 5:00 PM EST to listen to George Ministeri's Live Internet broadcast. [Internet Stream]

Radio2 - "Alternative Audio". I found an interesting earlier version of the site on Archive.org HERE. [Real}
STALE SITES
(Not updated in a long time, but still stuff to listen to.)

SciFi.com's Seeing Ear Theatre - High-profile and somewhat ponderous, but interesting nonetheless. The site is still up and running, but judging from message board posts, it seems that site updates and new content stopped in mid-2001, with no explanation. [Real]

The Schnauzer Logic Radio Company - Online talk radio show. The site has not been updated for a long time. [Real]

Radio Free OZ - A very, very confusing site that seems to have material from Firesign Theater on it. Firesign Theater is a high-profile "intellectual comedy" group that started in the late 60s. [Real]

InterNut Radio - "Funny web radio!" Mostly dead links. [Real]
LINKS / DIRECTORIES
SHOUTcast - Streaming stations. Check out these genres specifically: Comedy - Talk - Spoken

Joey Manley's Web Show Guide

Radio Theater on the Web

Yahoo! News and Media > Internet Broadcasts

Yahoo! Entertainment > Comedy > Internet Broadcasts

Open Directory - Arts:Radio:Internet:Talk_Radio

HumorLinks : CDs and Audio Humor


AUDIO GAMES
audiogames.net - "A website that focuses on everything that surrounds audiogaming, such as game reviews, articles, research, downloads, trailers, cheats and more. Currently the biggest online archive of audiogames."

Bavisoft - "Software for the blind and visually impaired." They sell a great PC game called "Grizzly Gulch" which is audio-only, but you don't have to be blind to enjoy it! UPDATE: New game, "Chillingham", available now!

Audyssey Magazine - "Audyssey is a magazine devoted to the discussion of games which, by accident or design, are accessible to blind or vision impaired persons." Definitely a good source for info on audio gaming, though its scope is much wider.

GMA Games - Software company which makes a game called "Shades of Doom", which is apparently an audio game. Other games of theirs could be audio games as well... hard to tell...

The Interactive Audio Game Project - Audio game idea from Autumn 1997. Alternate Link
BROADCAST RADIO SHOWS / OTHER
(With shows/archives available online.)

The Audio Kitchen - A wide variety of found audio material, such as childhood tapes, answering machines, people singing songs, etc. Used to be a weekly show on NJ radio station WFMU, now only broadcast infrequently. Still going, with a large archive of shows available in Real format (too bad they're not MP3). Here is the old page. [Real]

Harry Shearer's Le Show - Weekly radio show airing on KCRW, Santa Monica, CA. Over 2 years of show archives online. [Real]

Ken Nordine's Word Jazz - Streaming webcasts of this beat-era cool poet/atmospheric monologuist dude. Very cool, hip stuff. [Windows Media, Quicktime, Real]

Joe Frank - Spoken word audio artist type of person. I've heard a lot of good stuff about him, and there's a big archive of shows in Real format. [Real]

Cigar Radio - Weekly radio show about cigars. [Real]
DEAD AND SUSPENDED SITES
(Sites that have disappeared or suspended operations. Dead links go to archive.org where you can see some archived versions of the sites.)

Radiokook - Audio comedy from San Francisco. Fate unknown. Original Link

Giant Steps - British audio comedy "saga". Dry humor. Site gone. Original Link

eYada.com - High-profile online talk radio. Went out of business and shut down in July 2001. Original Link

The VaudeVillains - "Online audio comedy troupe presenting original humor written and performed by sick, sick people." Site gone. Original Link

Preservatory.com - Very cool site that shut down in Fall 2001. They had a variety of audio features from the vaults of the Canadian Broadcasting Company. The archive.org site backups can give you an idea of what it was about. Original Link

Audio Cinema(TM) - Hmm... claiming a trademark on the term "Audio Cinema"... but the site looks deader than a doornail... Original Link

Yack.com - Guide to Internet broadcasts. Looks to be gone. Original Link

How To Speak Hip - (Website gone?) Website of a classic vinyl album, where a hipster teaches squares how to speak "hip". Site has a Flash-based page where you can hear the album (MP3s would have been better...). Original Link

Vanishing Harold - Canadian improv sketch comedy. Good stuff, but hasn't been updated in a long time. UPDATE 12/27/03 - Looks like the site is down. Original Link

Hyphenated-American Radio - "Listen to our 'In Your Mouth!' internet radio show 24/7!" There seems to be a fairly recent show in the archive (as of July 2003), in which they talk about, among other things, the demise of antennaradio.com, where they had been "syndicated" at one point. UPDATE: Looks to be gone. Original Link

James Randi Internet Audio "Radio" Show - The Amazing Randi proves that psychic powers are fake... something like that... UPDATE: Show is on "hiatus".

Zero Point Radio - "Your 24/7 Conspiracy, Paranormal and UFO Talk Radio Station" UPDATE: Looks dead.

Cheese Reels - Movie reviews and more. UPDATE: Gone?

X2Radio - With Nate and Ferg, from Times Square, NYC. UPDATE: Gone?





(Note: This site used to be called "Jaloppio", but was changed to "New Time Radio" on 9/15/03. We changed our focus to MP3-based shows on 4/7/04.)